Protein Popsicles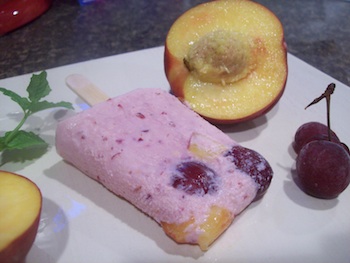 - 1/2 cup or a large handful of frozen or fresh cherries
- 1-6oz. container of Greek Yogurt (your flavor of choice)
- 2 scoops of JaylabPro Vanilla Protein Powder
- 1 handful of chopped peaches: (approximately 1/2 a cup)

Reserve a few chunks of the fruit on the side
Blend the yogurt, JaylabPro Protein Powder, and rest of the fruit till smooth.

Next, drop the reserved fruit into whatever popsicle containers you have (I used the plastic kind you buy at the grocery store for $1)
Pour the yogurt mixture in over the fruit, and freeze till solid.
Nutrient Breakdown:
Calories: 238
Protein: 28 grams
Carbs: 33 grams
Fat: 0 grams

Click Here To Reserve Your Bottle Of JaylabPro Protein>>

Click Here For More Delicious Recipes>>


About Jayson Hunter & Jaylab Pro
Jaylab Pro was founded by Registered Dietitian Jayson Hunter. Jayson has been recognized as one of America's foremost weight loss experts by America's Premier Experts™. He has also been featured in USA Today for this accomplishment. Jayson is also a best-selling author having co-authored multiple books in health & fitness and business growth. Jayson and the Jaylab Pro team are proud to create content that helps improve the lives of millions of people around the world. We hope you enjoy it just as much as others have.