Who Doesn't Love Pudding!

Vanilla Cinnamon Pudding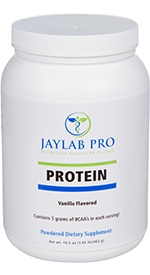 4 scoops JaylabPro Protein Vanilla
1/2 tsp cinnamon
1 tsp Stevia
Enough water for desired consistency (about 1/4 of a cup)
Blend Prograde protein powder, stevia and cinnamon ingredients together in a bowl until it mixed well. Add a little cold water and mix it in. Keep adding a tiny amount of water and mixing well until your pudding reaches the consistency that you desire. Then put in the refrigerator to cool. Once cooled then enjoy!
Nutrition Data per recipe (1 serving):
Calories: 240
Protein: 48 gms
Carbs: 4 gms
Fat: 2 gms
I just wanted you to know I tried the ice cream and it is fabulous!!! I ate it for a snack in the afternoon and after I taught my exercise class I wasn't even hungry like I usually am! Thank you! Keep the recipes coming. I can't wait to try the Peanut Butter Bar!!!!
Cheryl Cokley
Pennsylvania
If you didn't get the other recipes you can click these links
=>> Peanut Butter Ice Cream
About Jayson Hunter & Jaylab Pro
Jaylab Pro was founded by Registered Dietitian Jayson Hunter. Jayson has been recognized as one of America's foremost weight loss experts by America's Premier Experts™. He has also been featured in USA Today for this accomplishment. Jayson is also a best-selling author having co-authored multiple books in health & fitness and business growth. Jayson and the Jaylab Pro team are proud to create content that helps improve the lives of millions of people around the world. We hope you enjoy it just as much as others have.