Protein Packed Freedom Cups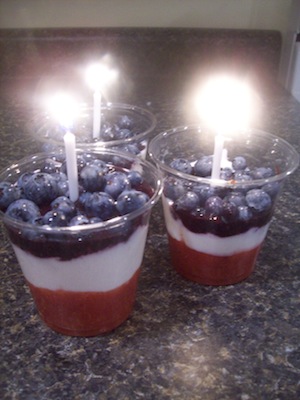 These protein-packed, festive red, white and blue popsicles are the PERFECT addition to any barbeque! Simple to make, with a smooth, decadent, creamy center layer, will make you think you're cheating!

First, make your layers:

Red Berry layer:

1 cup fresh, rinsed, hulled Strawberries
3 dried, unsweetened Dates

White Cream layer:

1-6 oz. container of Plain Greek Yogurt
1 Scoop JaylabPro Vanilla Protein Powder
¼ cup Unsweetened Almond Milk (can be found in the organic section of your local grocery store)

Blue layer:

¾ cup washed Blackberries
¼ cup washed Blueberries
3 dried, unsweetened dates

Reserve an additional 3/4 cup of blueberries to top the dessert cups.

Blend all the layers with a blender or Magic Bullet separately. Carefully spoon each layer equally into 3 clear cups, starting with the Red Berry Layer, then the White Cream layer, then top with the Blue Layer. Fill to the top of the cup with the blueberries.

Then, for an added festive look, top each with a candle or a sparkler (careful if you choose to light them, especially with children!).


Makes three cups.

• Berries should be fresh, not frozen, to maintain the stability of each fruit layer.

• While the dates increase the carbohydrate content, if you buy the unsweetened dried variety at a Natural Foods Store, this will bring the carb count down. They're important to help stabilize each berry layer, so they will stay three separate layers, as opposed to running and settling together.

• To the White Cream center, you can add light-colored nuts (such as cashews) before food processing (whereas a darker-colored nut like almonds would change the white center to a brownish). You can also add unsweetened coconut and/or coconut milk instead of the almond milk.

• These are best made in advance, so the layers have a chance to really set in the fridge.
Nutritional Info Per 1 cup: Makes 3 cups/servings
Calories: 150
Fat: 1 gm
Carbs: 27 gms
Protein: 8 gms
Click Here To Reserve Your Bottle Of JaylabPro Protein >>
Click Here For More Delicious Recipes >>
About Jayson Hunter & Jaylab Pro
Jaylab Pro was founded by Registered Dietitian Jayson Hunter. Jayson has been recognized as one of America's foremost weight loss experts by America's Premier Experts™. He has also been featured in USA Today for this accomplishment. Jayson is also a best-selling author having co-authored multiple books in health & fitness and business growth. Jayson and the Jaylab Pro team are proud to create content that helps improve the lives of millions of people around the world. We hope you enjoy it just as much as others have.