Midwinter Oatmeal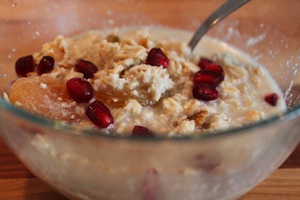 This is taking a traditional oatmeal recipe and adding healthy protein to it so that the carbohydrate response is slower. The blood sugar response will be lower with the higher protein consumption so the carbohydrates consumed are not as likely to be stored as fat. The body will utilize the carbohydrates more efficiently thanks to the protein that is being consumed with this oatmeal recipe.
Enjoy!
Boil 1 c. hot water
Add to a bowl:
1/2 c. old-fashioned oats
1/4 c. dried apricots
1 scoop JaylabPro Vanilla Protein Powder


Pour the hot water into the bowl of ingredients. Top with a plate or inverted bowl to lock in the steam.
After about 3 minutes, remove plate or bowl, and sprinkle with pomegranate seeds (You may also use any dried fruit, nut, or berry mixture you like, up to 1/4 c.)

Nutrition Info:
Calories: 310
Protein: 19 gms
Carbs: 52 gms
Fat: 3 gms
Click Here To Reserve Your Bottle Of JaylabPro Protein >>


Click Here For More Delicious Recipes >>
About Jayson Hunter & Jaylab Pro
Jaylab Pro was founded by Registered Dietitian Jayson Hunter. Jayson has been recognized as one of America's foremost weight loss experts by America's Premier Experts™. He has also been featured in USA Today for this accomplishment. Jayson is also a best-selling author having co-authored multiple books in health & fitness and business growth. Jayson and the Jaylab Pro team are proud to create content that helps improve the lives of millions of people around the world. We hope you enjoy it just as much as others have.