Easy And Delicious "Wheat-Free" Ground Turkey Meatloaf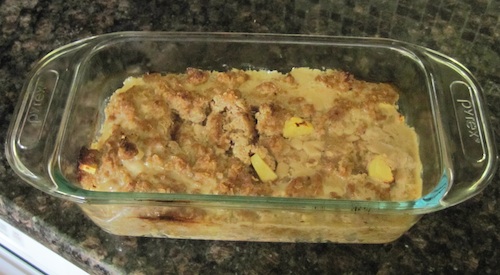 Ingredients:

1 omega-3 egg
1 lb lean ground turkey
3 Tbsp Natural BBQ Sauce (NO High-fructose corn syrup)
½ apple, peeled and chopped
Few shakes of Montreal Steak Spice
1/3 Cup Quinoa Flakes (or Oats, or Cornmeal)

Directions:

1. Beat egg in large mixing bowl
2. Add remaining ingredients and mix together
3. Place in a non-stick bread pan
4. Bake at 400F for 30 mins or until center is no longer pink

Serves 4

Nutritional Info per serving:

236 Calories
22 g protein
10 g carbs
1 g fiber
11 g fat
3 g saturated
4 g mono
2 g poly
143 g cholesterol
More About Omega 3 Fatty Acids >>
Click Here For Another Way To Get More Protein Into Your Nutrition >>


About Jayson Hunter & Jaylab Pro
Jaylab Pro was founded by Registered Dietitian Jayson Hunter. Jayson has been recognized as one of America's foremost weight loss experts by America's Premier Experts™. He has also been featured in USA Today for this accomplishment. Jayson is also a best-selling author having co-authored multiple books in health & fitness and business growth. Jayson and the Jaylab Pro team are proud to create content that helps improve the lives of millions of people around the world. We hope you enjoy it just as much as others have.