Delightful Dark Chocolate Chunk Muffins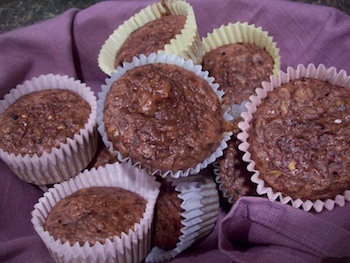 By Nedah Barrett of leanKitchen.com
Preheat your oven to 350, then mix:
• 2 eggs
• 1 c. unsweetened vanilla almond milk
• 1 c. shredded zucchini (peeled before shredding)
• 1 tsp. vanilla
• 3 tbsp. agave syrup
Whisk well then add:
• 1/2 c. Quinoa (uncooked, dry; preferably red)
• 1 tsp. baking soda
• 1/2 c. gluten free pancake mix
• 1 tsp cocoa powder
• 1 1/2 scoops JaylabPro Chocolate Protein powder

Blend more till smooth. If desired, add 1/2-3/4 c. dark chocolate chips or chunks. Note: Your batter will be very wet. Pour the batter into muffin tins, bake till they spring when you touch them, about 15-20 minutes. Let them rest on a counter for 10-15 minutes to cool. The quinoa becomes nutty and delicious within the muffins. These are best served cooled.

Makes 1 Dozen.
Nutrition Facts: (per 1 muffin)

Calories: 86
Protein: 4 gms
Carbohydrates: 13 gms
Fat: 2 gms



Click Here To Reserve Your Bottle Of JaylabPro Protein >>
Click Here For More Delicious Recipes >>
About Jayson Hunter & Jaylab Pro
Jaylab Pro was founded by Registered Dietitian Jayson Hunter. Jayson has been recognized as one of America's foremost weight loss experts by America's Premier Experts™. He has also been featured in USA Today for this accomplishment. Jayson is also a best-selling author having co-authored multiple books in health & fitness and business growth. Jayson and the Jaylab Pro team are proud to create content that helps improve the lives of millions of people around the world. We hope you enjoy it just as much as others have.