JaylabPro Chocolate Covered Almond Truffles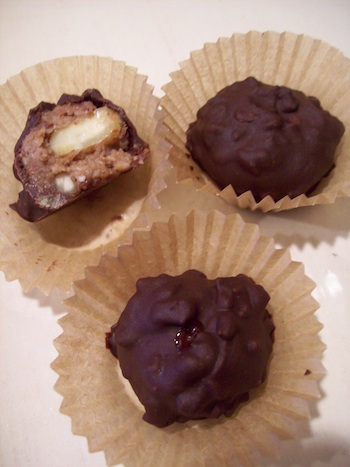 Ingredients List:

2 tbsp JaylabPro chocolate protein powder
1 c. unsalted, natural (skin-on) almonds (reserve 8-10 in addition to this on the side. Cut or crack these into large chunks to embed within your truffle)
1 tbsp. coconut oil
2 tbsp. unsweetened coconut, shredded
2 tbsp. agave
6 tbsp. water

Blend in all ingredients until a firm batter forms, and it becomes small and uniform. Place in a bowl covered in the freezer for 1 hour.

Remove, roll the mixture around over 1 large chunk of the reserved almonds, into balls using a teaspoon measure, and put back in the freezer for another 10-20 minutes.

Over a double boiler, melt down 1 dark chocolate bar (highest percentage cacao you like) until smooth.. Using a toothpick, dip each truffle round into the melted bar.

Set back in fridge in mini muffin tins until ready to serve.

Makes 20
Nutrition Facts: (per 1 truffle)
Calories: 75
Protein: 2.5 gms
Carbohydrates: 4gms
Fat: 5gm
Click Here To Reserve Your Bottle Of JaylabPro Protein >>


Click Here For More Delicious Recipes >>
About Jayson Hunter & Jaylab Pro
Jaylab Pro was founded by Registered Dietitian Jayson Hunter. Jayson has been recognized as one of America's foremost weight loss experts by America's Premier Experts™. He has also been featured in USA Today for this accomplishment. Jayson is also a best-selling author having co-authored multiple books in health & fitness and business growth. Jayson and the Jaylab Pro team are proud to create content that helps improve the lives of millions of people around the world. We hope you enjoy it just as much as others have.