(Recipe) Healthy Pumpkin Granola You Can Sink Your Teeth Into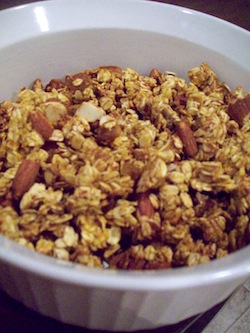 Mix in a bowl:
• 1 -1/2 c. Old-Fashioned Oats
• 1/4 c. Pumpkin-100% pumpkin; used canned (not the pie blend) or, to get your own, take a two-pound pumpkin (seeded, halved, roasted until soft) and puree in a blender or food processor till smooth
• 1 1/2 tsp. pumpkin pie spice mix (if you don't have that, you can use just straight up cinnamon)
• 1 tbsp. JaylabPro Vanilla Protein powder
• 1/4 c. agave nectar (or maple syrup, or honey)
• raisins, unsweetened cranberries, dried fruit (apples, berries) nuts, whatever you want, up to 1/4 c. per ingredient

Mix everything together in a large bowl. Spread evenly on a cookie sheet, and bake at 325 for about 15 minutes.

Toss once with a spatula during cooking. When dried out (careful not to burn), you're done!

Use as a topping on your Greek yogurt, with some almond milk as cereal, or however else you like your granola!
Nutrition Breakdown: Estimate based on using just cranberries as the fruit and 1/2 cup per serving

Calories: 259
Protein: 7 gms
Carbohydrates: 51 gms
Fat: 3 gms
Click Here To Reserve Your Bottle Of JaylabPro Protein >>


Click Here For More Delicious Recipes >>



About Jayson Hunter & Jaylab Pro
Jaylab Pro was founded by Registered Dietitian Jayson Hunter. Jayson has been recognized as one of America's foremost weight loss experts by America's Premier Experts™. He has also been featured in USA Today for this accomplishment. Jayson is also a best-selling author having co-authored multiple books in health & fitness and business growth. Jayson and the Jaylab Pro team are proud to create content that helps improve the lives of millions of people around the world. We hope you enjoy it just as much as others have.