Delicious Almond Crepes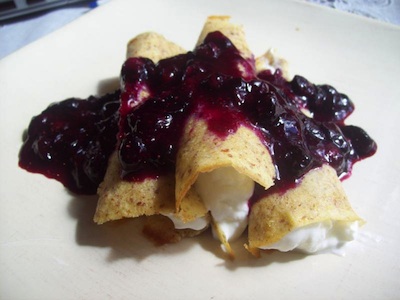 Instructions:

Pre-heat oven to 400 degrees and mix:

• 4 eggs
• 1/8 c. agave nectar
• 1/4 c. applesauce (unsweetened)

Set aside when blended well.

Take a 1/3-cup measuring cup, pour 1 scoop of JaylabPro Vanilla protein powder, then top the remaining space with almond flour.

Dump this first 1/3 c. measuring cup (filled partially with protein powder and partially with almond flour) into a separate bowl, then add the following ingredients:

• 1 2/3 cup almond flour
• 1/4 tsp baking powder
• 1/3 tsp salt

Mix dry ingredients into the wet, whisk till you get a thick batter, drop onto an ungreased cookie sheet (1-2 tbsp per crepe) with a tablespoon, and bake.

No need to flip, they will bake perfectly! Take them out when fully cooked, about 7-8 minutes. Put on a plate, add Greek yogurt (in the flavor of your choice-vanilla works great) in a line down the middle. Roll snugly, with the seam facing down onto a plate.

Microwave a handful of berries (your favorites) with 1 tbsp. agave, or just leave unsweetened. Microwave for 35 seconds till soft, and spoon your berry mixture over the top of the rolled crepe

Recipes yields 2 dozen crepes.

Nutrient Profile: (per crepe)

Calories: 67
Protein: 4 gms
Carbohydrates: 3 gms
Fat: 5gms

Click Here To Reserve Your Bottle Of JaylabPro Protein>>
Click Here For More Delicious Recipes>>
Want even more mouth watering, healthy recipes? Just click here to discover a delicious way to include JaylabPro protein powder into your favorite recipes!
About Jayson Hunter & Jaylab Pro
Jaylab Pro was founded by Registered Dietitian Jayson Hunter. Jayson has been recognized as one of America's foremost weight loss experts by America's Premier Experts™. He has also been featured in USA Today for this accomplishment. Jayson is also a best-selling author having co-authored multiple books in health & fitness and business growth. Jayson and the Jaylab Pro team are proud to create content that helps improve the lives of millions of people around the world. We hope you enjoy it just as much as others have.